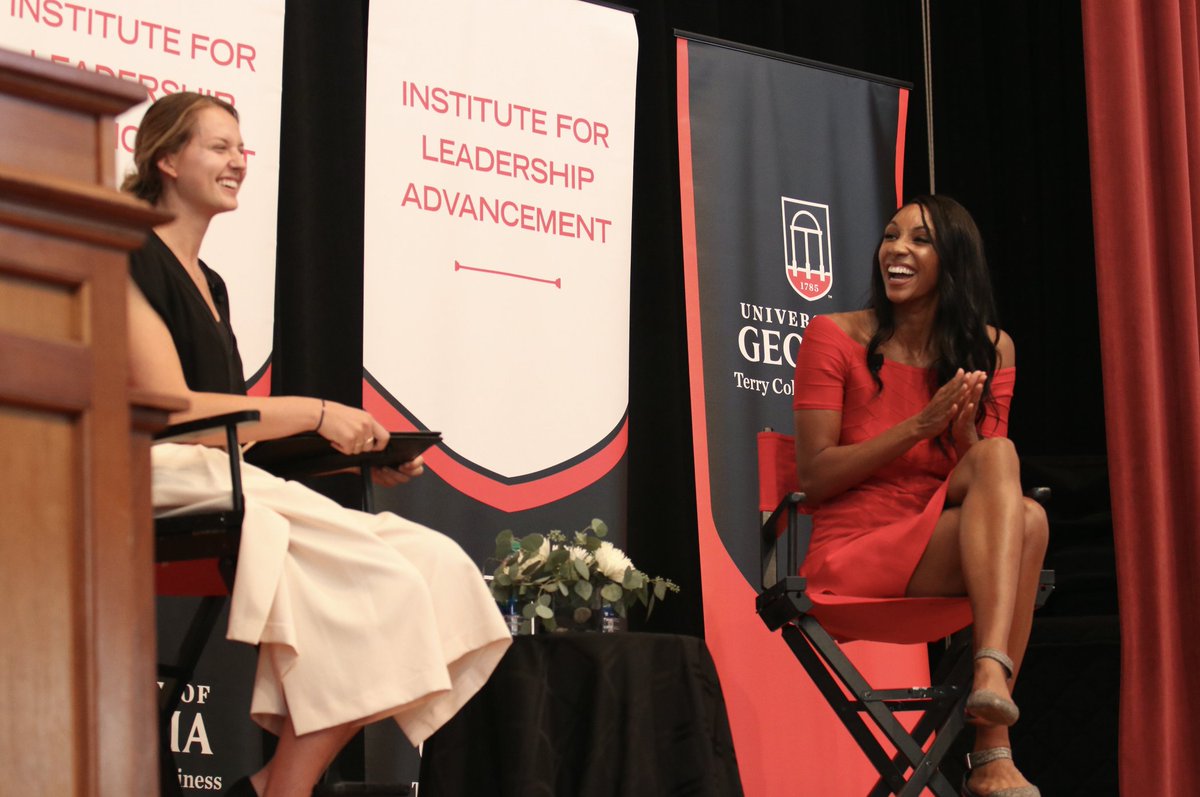 From left: Marketing major Kendall Kazor interviews ESPN personality and Terry alumna Maria Taylor during a Terry Leadership Speaker Series event.
As the first African-American woman to co-host ESPN College GameDay, Maria Taylor (ABJ '09, MBA '13) is familiar with forging her own path. The secret to breaking glass ceilings, she said at a Terry Leadership Speaker Series event, is to embrace what makes you different.
"What makes you unique is the one thing that sets you apart, and a lot of times it's something you hate. For me, it was my height. I've been 6'2" since I was 12, which meant I was taller than all the guys, so I wasn't going to have a boyfriend. None of my clothes fit. I always wished I could be a little more average so I could fit in," she said. "But now I realize that I am literally not on ESPN if I'm not 6'2" because if I don't go to the University of Georgia and play basketball and volleyball, then I don't have a connection with Coach (Andy) Landers, (former UGA Athletic Director) Damon Evans doesn't call GeorgiaDogs.com and tell them about me. None of these things happen unless I'm 6'2". So a lot of these things that you don't like, they set you apart. That becomes your strength, and your strengths define your lane."
Taylor, who is also a sideline reporter and analyst for ESPN, was a four-time all-SEC volleyball player at UGA and a starter on the women's basketball team.
Taylor pursued her Terry MBA while working in sports information at the Athletic Association. Since graduation, she has been employed by Comcast Sports Network, IMG and ESPN. From the outside, her career arc may look like a perfect upward slope, but it didn't happen the way she planned.
"When I came to school I thought I was going to be a team doctor. I took health sciences in high school. I took biology here and … I was terrible," she said. "What happened in school was that I realized what wasn't my purpose. My plan was to be a team doctor, but that wasn't the purpose or the lane I was meant to be in. That wasn't where my strengths are. And a lot of your purpose is going to come from where your strengths are. Since my strengths were interpersonal, I had to find something that really related to that — and journalism was it."
In 2014, Taylor co-founded a nonprofit, The Winning Edge Leadership Academy, to help women and minorities interested in careers in sports. The idea grew out of her own experiences of feeling invisible in her field.
"Just being a woman and being a minority, it's easy to feel like an outsider looking in or feel ostracized but those are the times you have to mentally psych yourself up and remind yourself that you belong," she said. "I emailed everyone. Literally everyone you see on TV I reached out to, and I couldn't lock in with anyone. I never got that opportunity. And I remember thinking that when I have the opportunity to share an experience with someone or to respond to an email that I'm going to do it. I have mentoring Skype sessions where you can reach out and talk with me. If I'm coming to your campus I will try to sit down with you. For me, it's all about giving back."
The Terry Leadership Speaker Series presented by the Institute for Leadership Advancement. It brings well-known leaders from a variety of organizations to share their unique leadership styles and experiences with students.